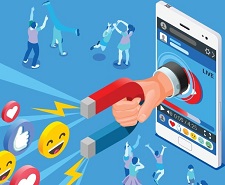 Yesterday I recruited 51 new subscribers in less than 24 hours using a specific Lead Magnet.
What is a Lead Magnet?
A lead magnet is a landing page or an offer dedicated to giving your website visitor some relevant value in exchange for their contact information (at the very least, a email address).
It is usually some sort of giveaway or some form of attraction that compels a person to give you their name and email.
What was my Lead Magnet? It was a PDF on the Basics of Bitcoin.
To whom did I send this Lead Magnet? I sent it to people who have already shown interest in Crypto Currency and may need help in understanding how it works.
Here is List of keys to Email Marketing Success. In that list, number 2 is referring to your Lead Magnet.
Lead Magnets are the key to being able to produce real leads for your business. The best marketers learn how to do it well and they are always learning more.
One of the things you want to realize is that most new visitors to your web site are not coming to buy. They are coming to get information to make a buying decision. This is where lead magnets can give your business an advantage.
So, let's look at some examples of lead magnets.
A Free Trial Offer
If you are able to provide web site visitors with a free trial offer, you have a powerful lead magnet. Free trials are a great no-risk way for visitors to find out if your product or service is a good fit for them.
TrafficWave.net offers a Free 30 Day Trial to all web site visitors. This makes it very easy for entrepreneurs, affiliate marketers, sales managers, etc… to find out if the system is a good fit for them.
A Check List
Many times, if you can offer a free tutorial to someone, they are more inclined to do business with you. My blog is full of a variety of email marketing tips, guides, and tutorials for my visitors. For example: Our 7 Essentials to Email Marketing With an Autoresponder is a big hit to many of my visitors.
A Free Guide
If you can show somebody how to do something, and you can do it for free, you've got one of the most powerful lead magnets available. Our Free 30 Minute List Building Challenge is a great example. Thousands of internet marketers have used this guide as a way to get started with list building. Many of them have continued with us as customers since they first got started.
The key is to find or create something you can use to offer your web site visitors. It should be something of value that they are interested in. When they fill out your form, they are saying, "I want to learn more" or "I want to try this out for myself".
You now have their information for future follow up and more opportunities to build rapport and increase sales.
Use the form below to download the Bitcoin Basics PDF. If you like it and you want to use it leave me a comment below and answer the questions:
1. Do you have an Autoresponder already? If not join TrafficWave and I will provide you email campaigns to grow your business.
2. Do you want the PDF customized to your name, and affiliate links?
3. Do you want a landing capture Page like mine?