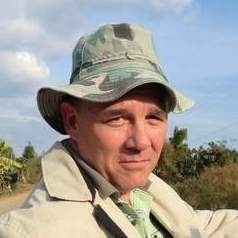 I am saying it ALL the Time, Build your Audience. You are probably sick of hearing it from me. But this is how you make money on line.
All the Gurus say Build Your List. And they are right except it is more than that. A List are people you have, an Audience is people who have chosen you. An "Audience" listens, a "List" of unknown people is regularly deleting your emails.
How do you build an Audience? How did I build my Audience around Thai food, now over 42,000 strong?
I listened today to a very good Podcast that provide the steps to getting your audience. Want to listen to it? It will be worth your time. But know it is about 45 minutes long. Here are the High Points and how I did it.
1: Identify Your Sweet Spot
The first step is to find your sweet spot. This involves identifying what expertise you can offer, pinpointing what your audience is struggling with, and making connections between the two.
My sweet spot was Thai Food. I live in Thailand Love Thai food.
2: Find Your Content Tilt
Your sweet spot is just the starting point. Now you need to take it a step further and find your differentiation area, or "content tilt." You can't just create the same content that everybody else is offering and expect to stand out.
My Content Tilt was Rats. Well rats play a part. If I did just Thai Food there would be too much competition. I focus on foods few people have had. That includes rats, yes. Everyone knows Pad Thai, Tom Yum Goong and Green Curry. I provide an unusual option. Thais living abroad love see "the real thing." Others like the unusual aspect.
3: Choose a Platform to Focus on
Now you need to pick your core platform to build your audience. Based on who you're targeting and your content tilt, choose your content type—audio, video, or text plus image? Then select your content platform. YouTube for video? Apple Music or Spotify for your podcast? A WordPress blog for your text plus image? Instagram for your pictures? Clubhouse for interactive audio?
If your niche does not differentiate you may be your platform can. For example, there are tons of recipe blogs, and YouTube videos so I chose a community approach on Facebook. I built a Facebook Private Group.
4: Build an Audience
The 9-12 months you spend focusing on the base leads to audience-building. This is where social media comes in. If you decide you're going to be on Twitter, Facebook, or YouTube, remember that you don't control any of those connections. Those followers or subscribers are Twitter's, Facebook's, or YouTube's, not yours. The platforms are letting you use their audience right now.
You need to have a plan to ascend the subscriber hierarchy and move into email. You're moving from rented to owned. I have 40,000 plus subscribers and use TrafficWave to manage and mail my list. Any other service provider would be far too costly. TrafficWave is $17.95 no matter how big your subscriber list is. Other services would be 100s per month.
5: Generate Revenue
For the first 9-12 months, you don't want to have any revenue expectations. It doesn't mean you won't get revenue. Just keep your expectations low because it takes time to build a loyal audience.
After about 12-18 months, you'll be in the revenue sweet spot. With the loyal audience you've developed, you can generate revenue in lots of different ways.
My list is now, after 7 months, producing a consistent revenue stream. Bu 90% of that revenue comes from those who have subscribed to my email list. I make 10x moresales from sending an email than from posting to my Facebook Group. But near 80% of my subscriber who I email subscribed from my Facebook Group.
**Footnote: Content Marketing Strategy: A Proven Method to Success by Michael Stelzner Full Article